COVID-19 DRIVE Dinner-Dance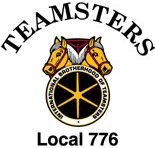 Teamsters Local 776 Regarding COVID-19
Drive Dinner Dance
Dear Sisters and Brothers,
Based on the recommendation and emergency declaration from President Trump and Governor Wolf and in the best interest of our Members, Families, Employees, and the communities we all live and work in, we have made the difficult decision to cancel the DRIVE Dinner Dance scheduled for March 28th. At this point we have not made any decisions on any other events at the Local Union.
While both Union halls remain open to service our members, we have initiated the recommended Social Distancing steps,and are also cleaning and disinfecting surfaces as recommended by the CDC. We are advising Members to try to conduct all business over the phone or via email. As we work through this challenge, we remain committed to providing the highest quality representation. We will keep you updated with any changes or additional cancellation and restrictions.
Fraternally

Edgar H. Thompson
President, Teamsters Local 776