Recently three Local 776 Members retired, turning the page on a new chapter in their lives. These long-term Members have a combined 113 years of Teamster Membership between them.
Craig Mackley retired in July after amassing 46 years of employment at Metals USA. Craig started his career in 1997 at what was then known as Borger Steel, a local, family-owned business in York, PA. Through the years Craig worked every job available; qualified forklift operator, side loader, saws, cranes, and jockeying trucks to name a few. Craig was a member of the safety committee and was a first aid responder trained in CPR.
Craig is married to his wife Mary, who also believes in long-term employment, she has been employed at YNS Candies for 44 years! Mary plans on working a few more years before retiring, and then she and Craig will start making some retirement plans. They have two sons and three grandchildren who will be vying for Craig's time now that he's retired. Until Mary retires Craig plans to keep busy with his hobbies; he is a woodcarver and creates cartoon characters, he collects model trains, and also enjoys fishing. In closing Craig had a few words for the people at work; "Keep up the good work; you'll get to retirement also!"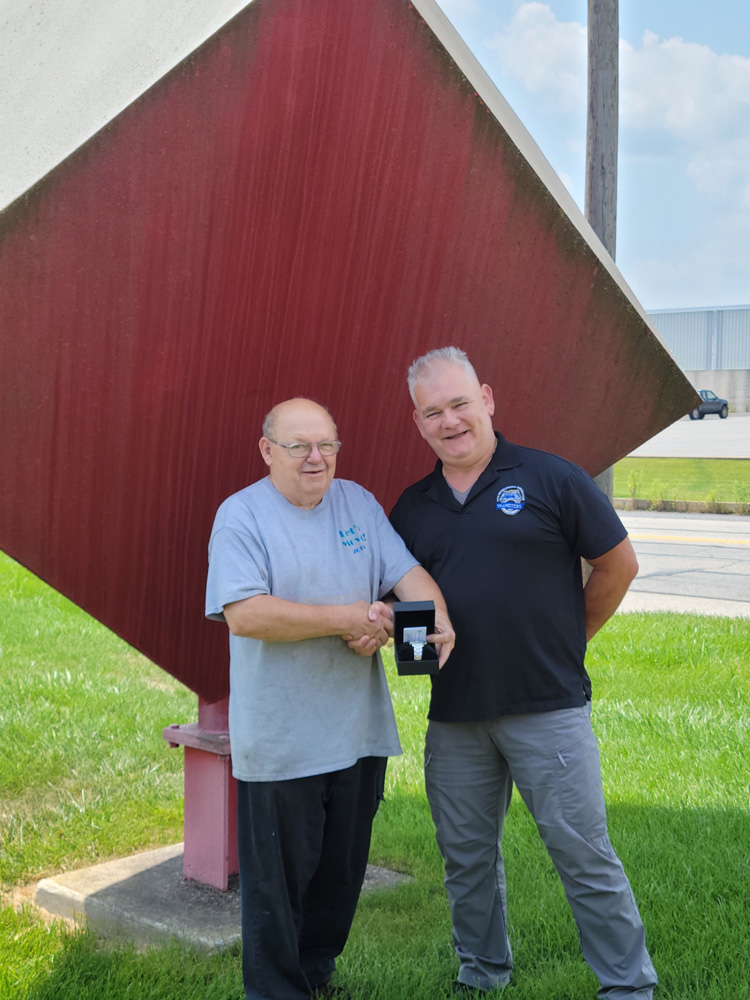 Craig (L) receives his retirement watch and congratulations from Local 776 Business Agent Bill Olmeda.
Steve May retired from York County Prison after 31 years as a Correctional Officer. While at YCP some of Steve's time was spent working in Transport, moving INS detainees to various facilities. His travels took him to Canada, Tampa, Florida, and Kentucky.
Steve and his wife Heather have 4 children together, with one granddaughter. Heather is still employed so it's up to Steve to spoil the granddaughter in his spare time! Currently, Steve is spending his retirement time on the golf course, playing three or four times a week. When he was contacted for this article he asked to call back later because he was in the middle of a round of golf! Ah, the life of a retiree!
In closing, Steve commented: "I enjoyed my time at YCP and appreciate the Teamsters and what they gave me."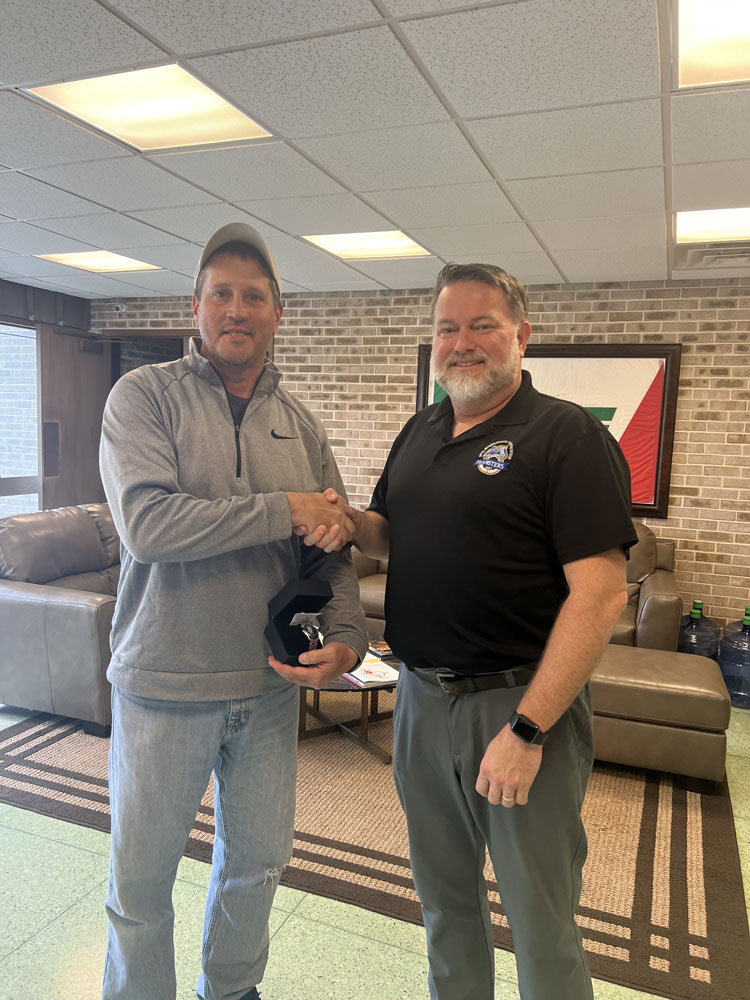 Steve (L) receives congratulations and his retirement watch from Local 776 Business Agent Shane Weaver
Joe Mazero retired from UPS after 36 years with the company. Like most long-term UPS Members Joe started as a part-time employee, became full time and worked as a package car driver, and for the last eight years, he has been a feeder driver, running tractor-trailers up and down the road. Joe was also a Union Steward for many years at the UPS building in York PA.
Joe has been married to his wife Twila for 29 years, together they have 7 kids between them. Twila also works for UPS as a package car driver but wants to work a few more years before she joins Joe in retired life. While he waits for Twila to retire Joe is settling into retirement by just relaxing. He also has a boat at Raystown Lake to keep him busy.
Joe commented on his retirement: "It was a tough career at UPS but rewarding, life is good because of it."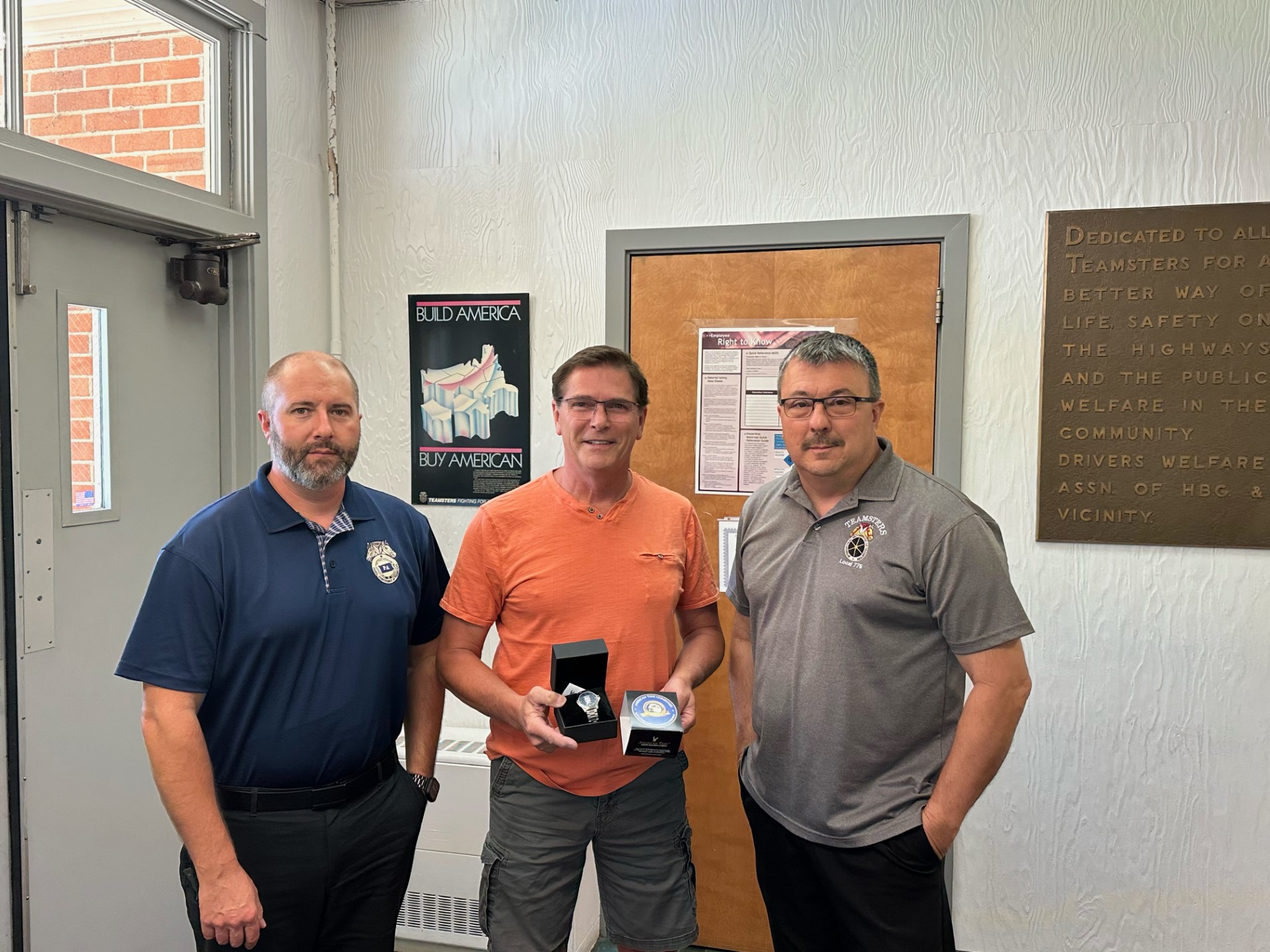 Joe (C) receives his retirement watch along with congratulations from Local 776 Business Agents Jason Kraft (L) and Dave Licht (R).