Scholarship Information
The following pages contain scholarship information for the child or dependent of a member of the International Brotherhood of Teamsters.
Local 776 Scholarships
Teamsters Local 776 is proud to announce a new scholarship opportunity for our member's dependent children. These scholarships are in addition to the Hoffa, and the HACC scholarships that are currently offered. The awards are made possible by the raffles conducted at all our Local Union events. All active member's dependent children are eligible as long as they meet the following criteria:
Be enrolled to begin college/trade school in the fall of the year scholarship is awarded.

Completely filled out and submitted the application to the Local 776 Secretary-Treasurer by the application deadline.

Be a child or dependent child of an active Local 776 Member.
Local 776 will award the $1000.00 scholarships yearly. The winners will be drawn lottery style at the May membership meeting.
Commented Local President Ed Thompson "These scholarships are another example of our commitment to provide the highest level of service to our members and their families. I encourage all members to participate".
To download, view, and print the scholarship application follow the link below:
Local 776 scholarship application
Harrisburg Area Community College
Teamsters Local Union 776 has an established Scholarship Fund at the Harrisburg Area Community College, which enables talented students to pursue a higher education. Scholarship recipients may be either full or part-time students. For details follow the link below:
James R Hoffa Memorial Scholarship Fund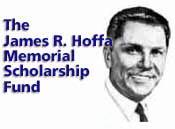 James R. Hoffa became a Teamster member in 1934 and served as General President for 14 years. In recognition of his tireless service to the union and its members he was honored as General President Emeritus for life. At the November 1999 General Executive Board meeting, then-General Secretary-Treasurer C. Thomas Keegel presented a resolution to establish the new scholarship fund. This site describes the James R. Hoffa Memorial Scholarship Fund (JRHMSF) and outlines eligibility requirements and application procedures.
The Fund is established solely to provide scholarships to the child or dependent of a member of the International Brotherhood of Teamsters, and contributions to the Fund are deductible as charitable contributions to the extent permitted by law.
For more details on the Scholarship Fund please follow the link below:
Page Last Updated: May 10, 2018 (04:52:00)