The Year was 1973: At the 45th Academy Awards Ceremony, Francis Ford Coppola's The Godfather wins Best Picture. The World Trade Center officially opens in New York City. The Oakland A's repeat as champions of Major League Baseball, defeating the New York Mets in the World Series. Some of you may remember these events; some of you may not even have been born yet! With all this and more going on Bradley Smith began working at the former Keystone Railway, later to become Amsted Rail. After forty-eight (48) years of a remarkable career, Brad recently retired from the Amsted Rail Company. Brad began his time at Keystone not long out of high school, starting in the assembly dept. Over the years he has worked in most of the areas of the shop including chrome plating, welding, and running CNC machines, to name a few. Brad was known by his coworkers for his "bloopers" that he sometimes drew on work in the shop to shed some light-hearted humor during the workday.
Brad and his wife Rose have three granddaughters and one grandson who will make sure he does not get bored sitting around the house! Right now, he and Rose just plan to slide into retirement by taking it easy. They plan to go on vacation and see what happens with COVID before making any bigger plans.
Reflecting on his time at Amsted Rail Brad remarked "A lot came and went over 48 years, advancements in machinery, changes in the working conditions, the work actually got easier as improvements took place".
From everyone at Local 776 congratulations on a remarkable career Brad, 48 years at the same employer is quite an accomplishment and something to be proud of!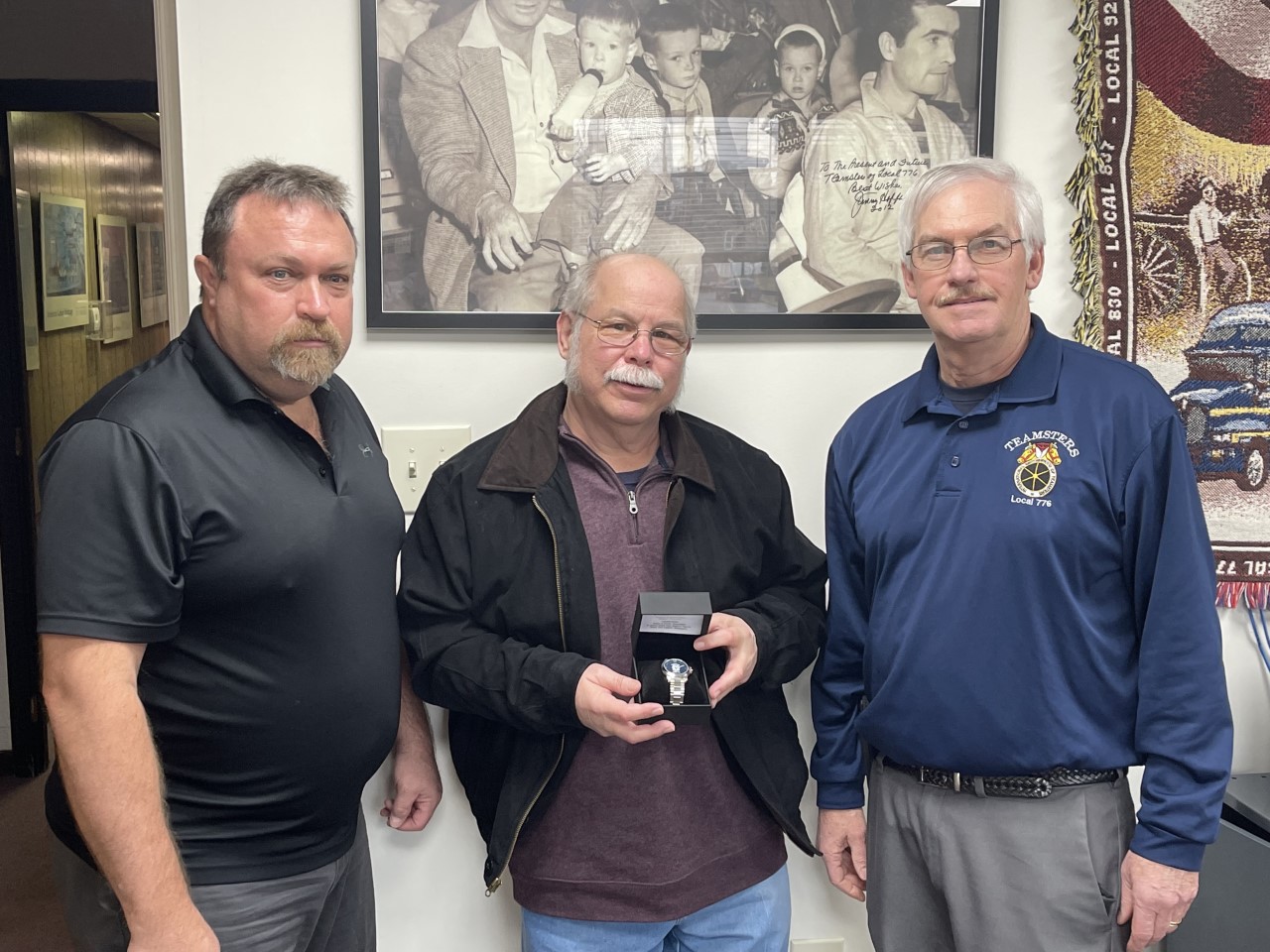 Brad Smith (Center) receives congratulations from Local 776 President Ed Thompson (L), and Local 776 Secretary-Treasurer Ron Hicks (R).