Local 776 Member Kathy Heindel Retires!
Kathy Heindel began her career at UPS as most long-term employees do, as a part-time employee. Kathy started at UPS in 1988 working various jobs until she got a full-time position in August 1996 as a full-time air combo driver. After being full-time for 1 1/2 years her seniority allowed her to become a feeder driver, where she remained for 23 years until her retirement on December 31, 2021. Kathy is a second-generation Teamster, having learned from her father, Verl F. Heindel, who was a Teamster at Roadway Express for 30 years that being employed as a Teamster meant that you would have good pay, great health benefits, job protection, and a good pension.
During the wars in Afghanistan & Iraq Kathy collected items to help support a troop of 160 military personnel in Baghdad from our area for a year. She also helped fellow UPS drivers who served and had sons overseas. Fellow Teamsters from the Union Hall would donate money for items, sign cards, and offer support. One year a 6-foot Christmas tree and decorations were sent to the troops. Kathy organized a fundraiser for a UPS driver serving in Afghanistan. She collected $2500 in two weeks for the family. Additionally, Local 776 donated many toys and gifts to the family that year. When we suffered the loss of drivers on the road at UPS Kathy set up fundraisers for the families, making peanut butter and coconut eggs and selling them. The money being donated to the families. To help a hub employee's son with cancer Kathy made cookies and masks, selling them and donating $2300 in just a few weeks. For all of her humanitarian efforts, Kathy was nominated for "Super UPSer" on the UPS website in December of 2021. Commented Kathy "my grandmother taught me that we are blessed and we need to give back!" Congratulations on retirement Kathy, you are a shining example of the Local's motto of "People Helping People"!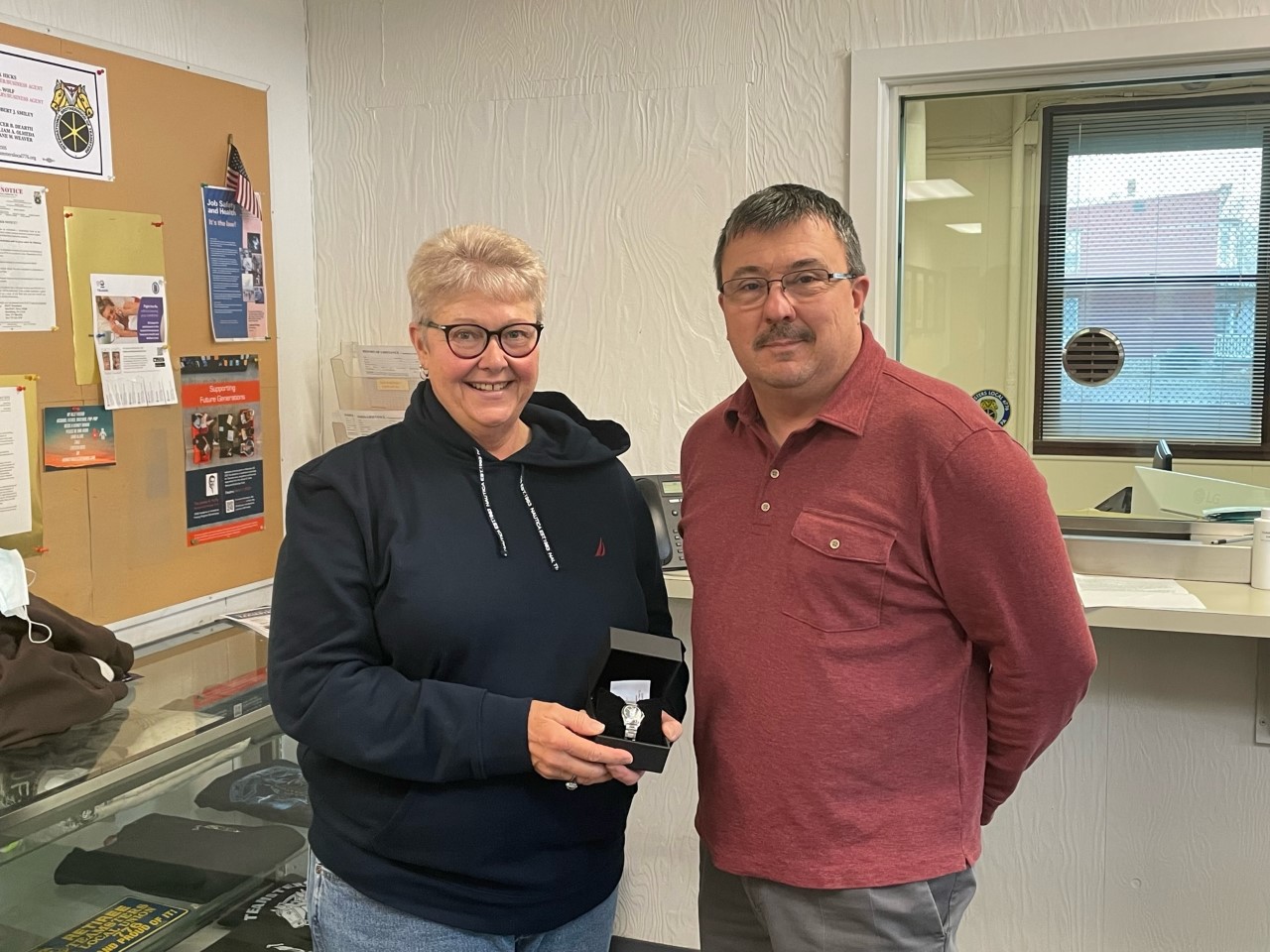 Kathy receives her retirement watch along with congratulations from Local 776 BA Dave Licht