Between July 25th and July 30th, 2022, thunderstorms brought heavy rain, deadly flash flooding, and devastating river flooding to eastern Kentucky. These thunderstorms, at times, caused rainfall rates in excess of 4" per hour which led to widespread devastating impacts. The overwhelming amounts of rain and resultant flooding led to 39 deaths and widespread catastrophic damage.

Entire homes and parts of some communities were swept away by floodwaters, leading to costly damage to infrastructure in the region. Radar-based rainfall estimates suggest that upwards of 14-16" of rain fell during this 5-day period, with many more locations receiving 6-10" of rain. The incredible rainfall led to significant flooding on many rivers in eastern Kentucky. The river flooding caused a second round of destruction for communities in the region and caused flooding in downstream areas that did not receive as much rainfall. Damage estimates in Perry County show that 23% to 24% of the homes had been destroyed.

Area resident Chris Darhower used his contacts in law enforcement and as a firefighter to reach out to area agencies to begin a relief effort. As Chris began to amass relief supplies for the devastated region, he quickly had more supplies than he had room in a rental truck! Enter Local 776 UPS member Phil Thompson, a friend of Chris's. Once he saw what Chris had amassed so far, with more expected, Phil got the Local Union involved by having Chris contact Local President Ed Thompson. Ed wasted no time getting the particulars of where to pick up and where to go, setting the wheels in motion for a Local 776 relief mission. Phil became the driver for this particular trip, and quickly a plan materialized. The first was a trip to a local Amazon warehouse for generously donated items. Next, a stop at a local non-profit agency, Mission Central. Mission Central acts as a distribution hub to receive, sort, and categorize, and then distribute relief items where they are needed. Lastly, a stop at Chris's home, where supplies were already loaded on 20 skids. When all of this was completed, Phil weighed the load at 32,000 pounds! Items included school supplies, personal hygiene kits, clothing, building supplies, pet food, barbeque charcoal for cooking, and water treatment and filtration kits. Phil and Chris left for Hazard, Kentucky on September 1, followed by Chris's friend Collin Morton in another truck with over-flow supplies. The first stop to unload was in Whitesburg, KY, to deliver the building supplies to a local church being used as a distribution point for the relief effort. Next up was to deliver the remaining supplies to a Federal Emergency Management Agency (FEMA) distribution point in Hazard, KY. A vacant JC Penney store was used as a collection/distribution site and was a site of non-stop activity. While being unloaded one of the Perry County workers remarked to Phil what a well-rounded load of supplies were included. As quickly as skids of donations were unloaded from the truck, they were immediately moved to the distribution floor for eagerly waiting people. Their work complete Phil headed the truck back to Harrisburg, arriving at the Union Hall on Saturday morning.
Commented Chris on the event: "Phillip Thompson chauffeured our load and me safely to Hazard, Kentucky. He's a proud member of Local 776 and a good friend of mine. I owe him for introducing me to a wonderful group of Teamsters dedicated to helping people make a difference. These guys and gals have been there every step of the way and I feel like family, despite the fact they didn't even know my name a few days ago. Everyone down here has been so grateful for your assistance and willingness to help." As one person who stopped to admire the truck told us, "We stay poor down here in Eastern Kentucky. This is all we know, and many who have spent their entire lives working just to have a trailer and an old car lost that, too. It's devastating for us."
"When disaster strikes and someone needs help we are available at a moment's notice," commented Local 776 President Ed Thompson. "I would like to thank everyone at Local 776 who worked to make this trip happen as quickly as it did.

Stops at an Amazon warehouse and Mission Central started the relief effort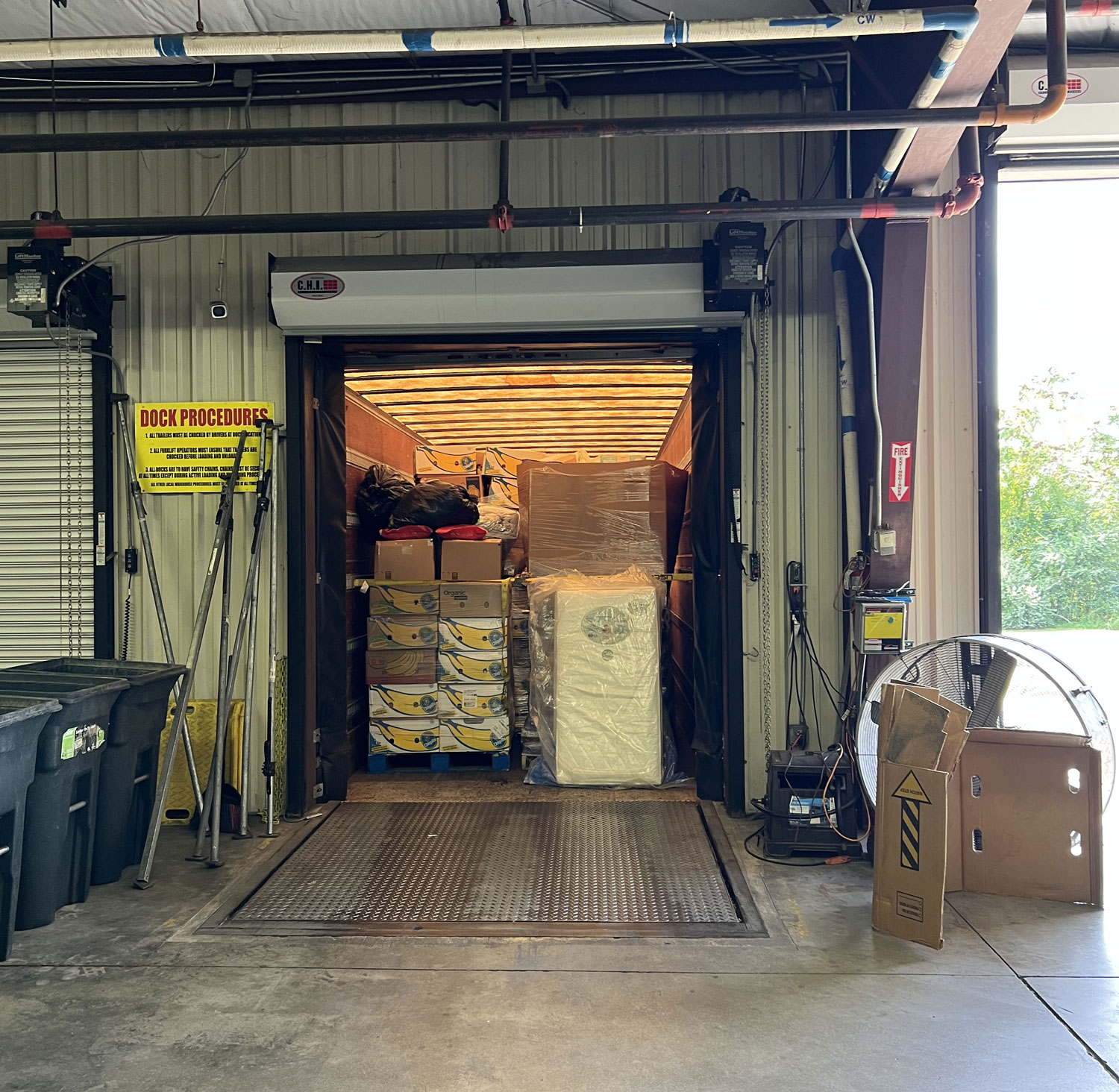 The load quickly became high and tight!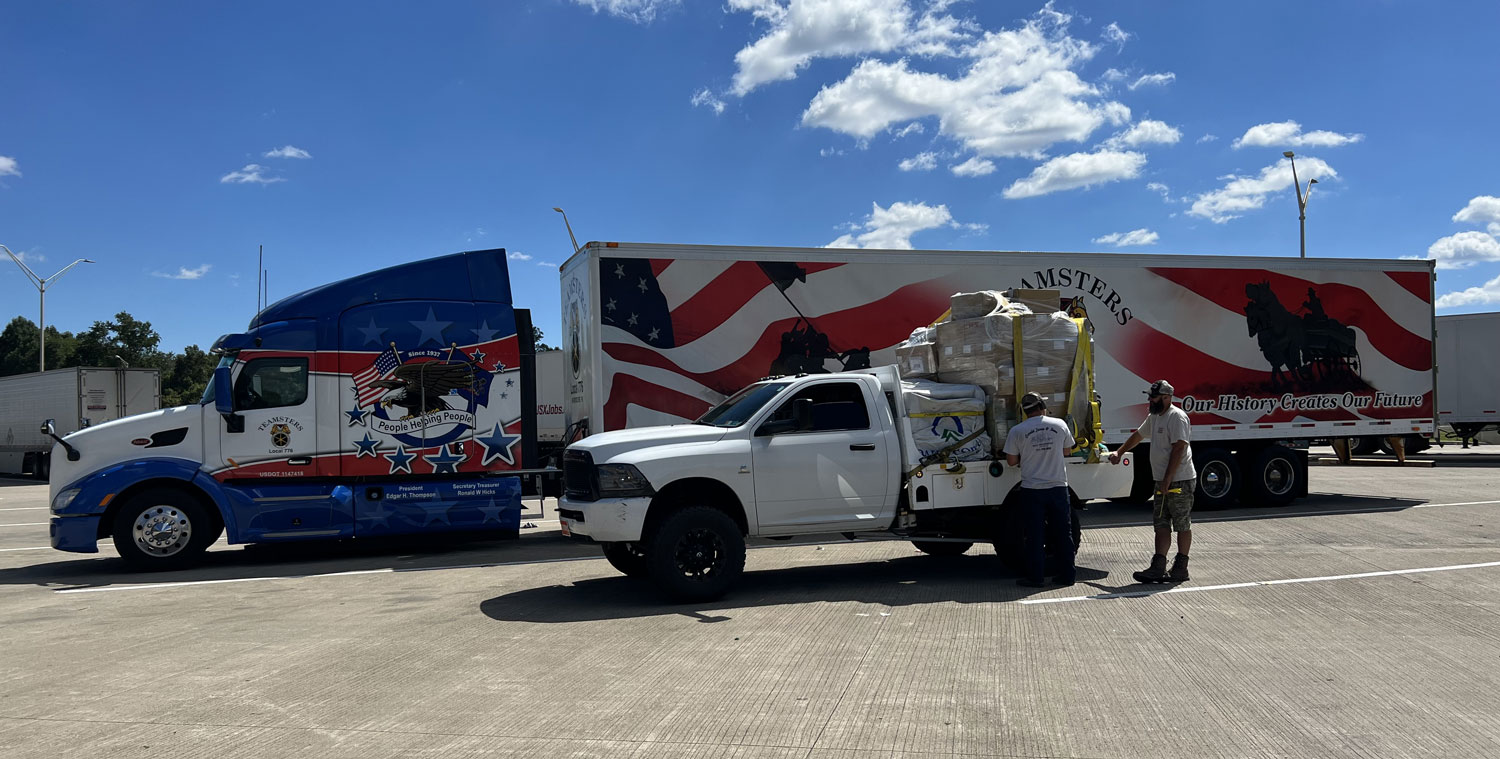 Local 776 Member Phil Thompson (R) and Collin Morton secure the loads before leaving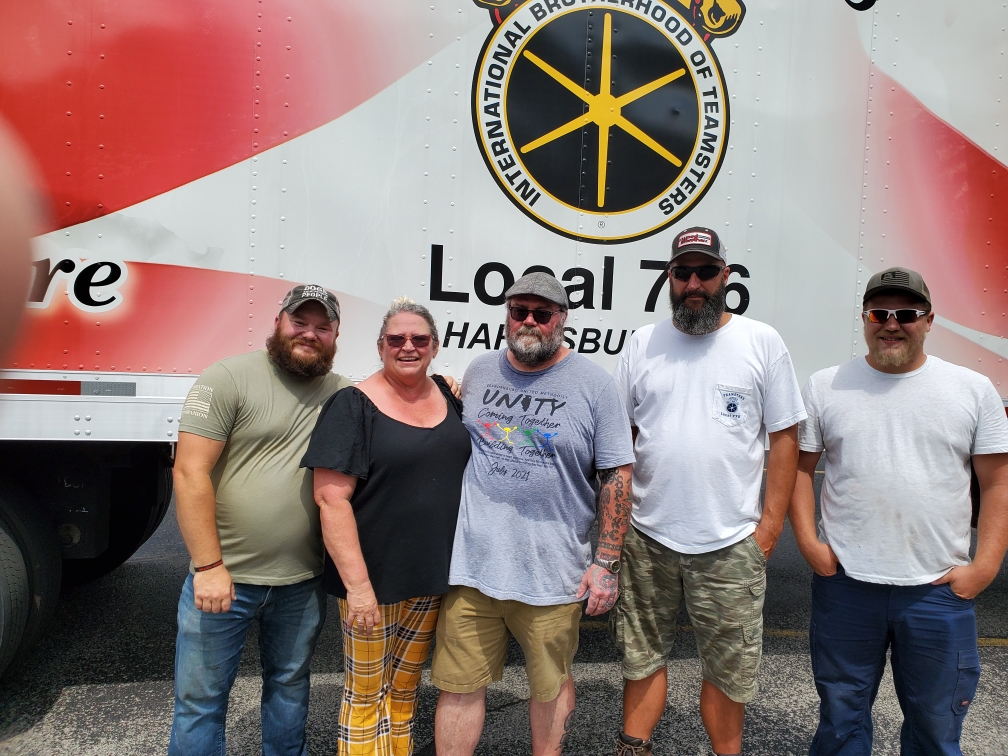 (L-R): Relief coordinator Chris Darhower, Robin and David; Union volunteers working at the FEMA relief site, Local 776 Member Phil Thompson, and Collin Morton, driver of the second supply laden vehicle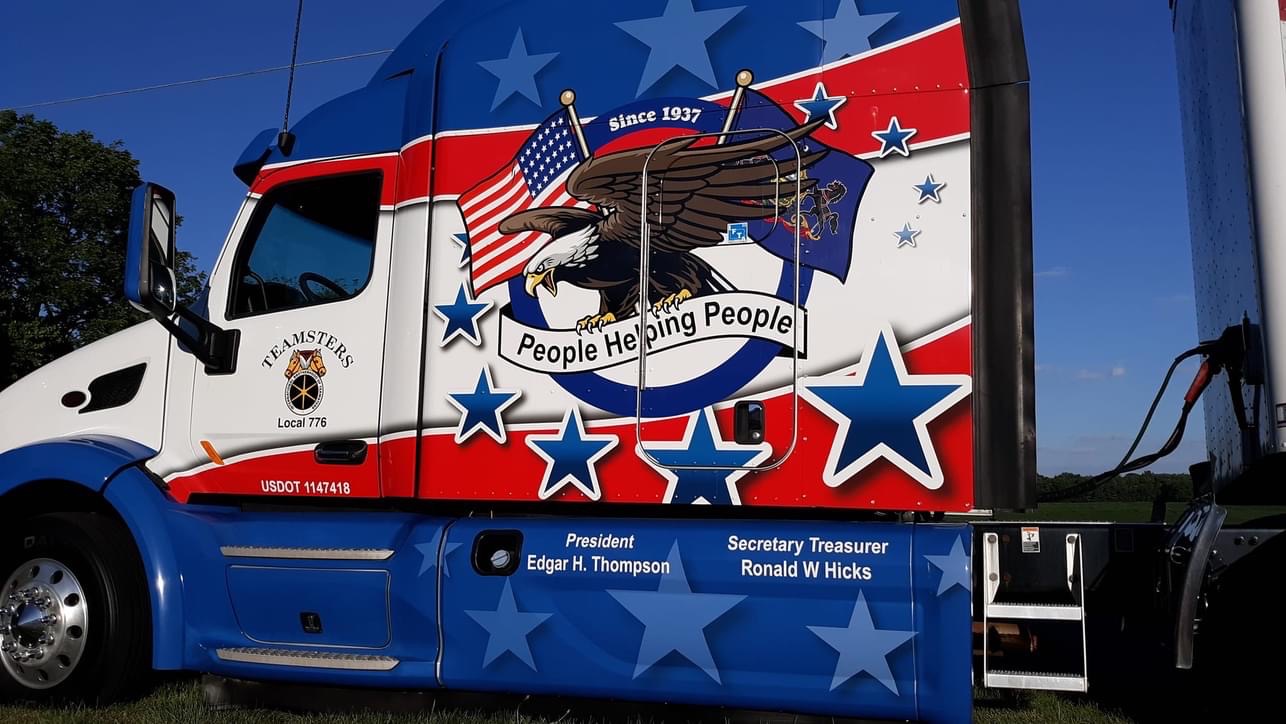 The truck says it all:
"People Helping People"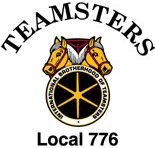 To view additional photos from the trip please visit the website's "Photo Gallery"