In collaboration with the York County WIC (women, infants, and children) program Local 776 is again hosting their annual Christmas for Kids Party. This community services project helps some of the neediest families' kids in the area have a brighter holiday.
Beginning at the monthly membership meeting on October 13th Christmas tree "Ornaments" with kids' names will be available for selection. Ornaments can also be picked up at the Union Hall during regular office hours. So how can you help? Many members pick up an ornament and then return with a gift. If you would prefer, monetary donations are graciously accepted, then the Local 776 "elves" will shop for you. Please make any checks payable to Teamsters Local 776 and in the memo area of your check please mark "Christmas for Kids party".
This year Members of Teamster Horsemen Chapter 53W are selling raffle tickets in support of the Christmas for Kids party; the tickets can be purchased from any Teamster Horsemen member, and will also be available at the membership meeting or by contacting Chapter Pres. Rob Smiley at 717-6494856. Tickets can be purchased until October 28, 2019. The tickets will use the PA Lottery evening and mid-day numbers drawn on October 29, 2019 to determine the winners. First prize for matching the evening number will be $1000.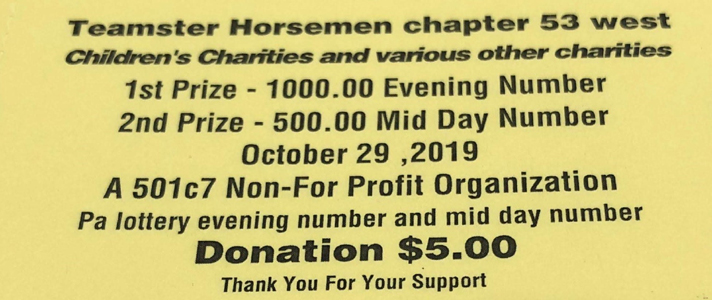 This community service project could not take place without strong support from the members. This holiday season help put a smile on a child's face by making their Christmas a little brighter. Please find it in your hearts to help in any way that you can by supporting this worthy project for these kids.