Local 776 Golf Tournament
Some of Local 776's finest teed it up on Sunday August 4, 2019 for some friendly competition at Eagle Crossing Golf Course in Carlisle. After a stormy Saturday the golfers were treated to a warm sunny day with a gentle breeze. There was plenty of competition on the course as members vied for first place in their respective flights, close to the pin competition, and longest drive. While the scores were tallied the members enjoyed a steak dinner while they talked about what coulda, shoulda, woulda happened on the course!
As is the custom at Local 776 events a 50/50 drawing was held in support of the 776 Scholarship Fund. This year's winner was Ralph Santo. The 50/50 drawing Consolation Prize of an Eagles Crossing Golf Club Gift Card was won by Chris Fortenbaugh.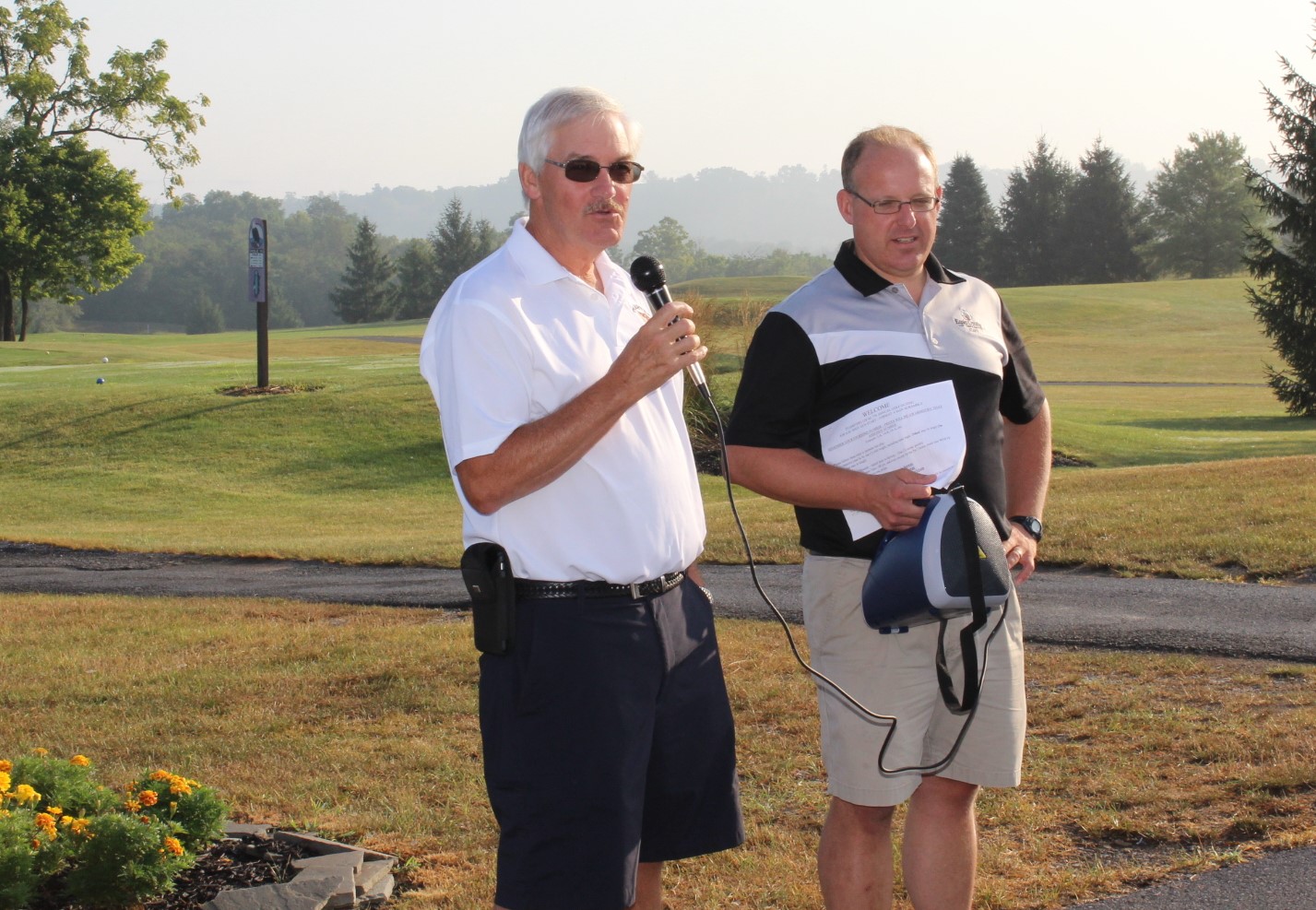 Local 776 SecretaryTreasurer Ron Hicks welcomes the members and goes over the course rules.
The winners in the various golf categories were:
Championship Flight
1st Place: Robert Mallon, Wayne Mallon, Mike Seller and Doug Ever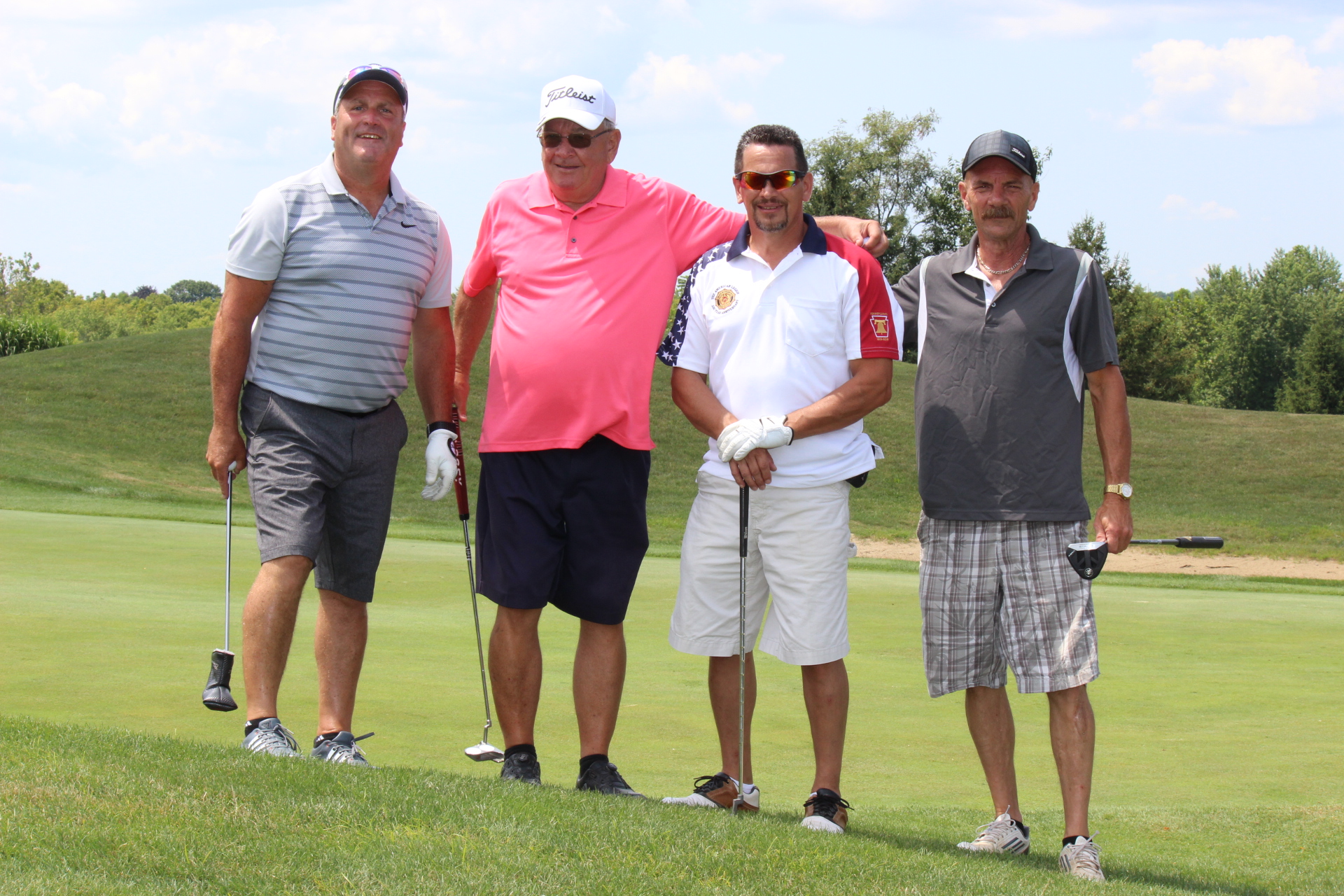 2nd Place: Ron Irvin, Josh Eberly, Justin Shaeffer and Ernie Schoonver
3rd Place: Jason Seidel, Joseph Cielinski, Chris Schraeder and Tim Will
First Flight
1st Place: Chuck Thomas, Robert Herrick, Martin Kocher and Shawn Leiphart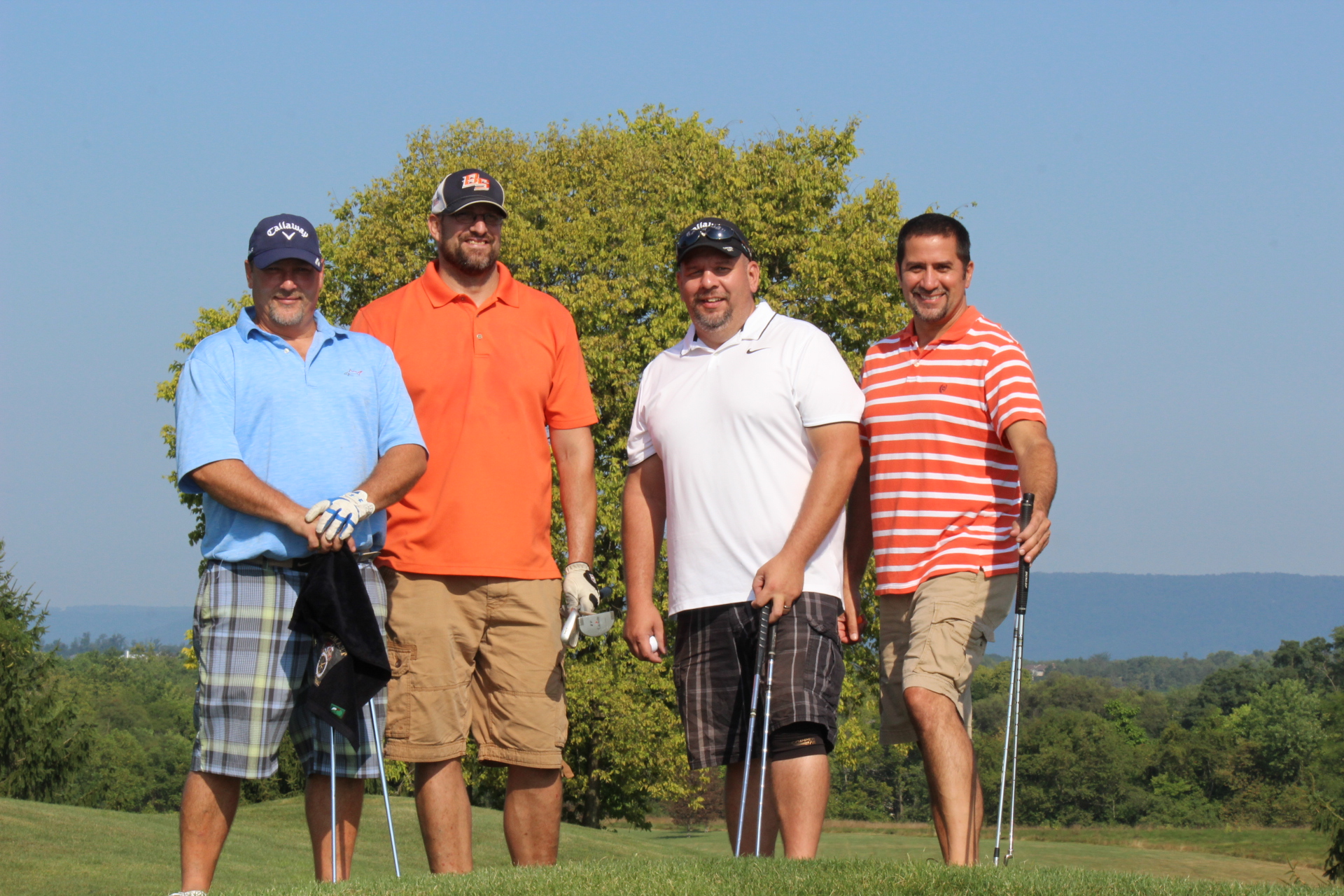 2nd Place: Eric German, Bill Mielke, Rodney Kreider and Chris Fortenbaugh
3rd Place Tim Clark, Paul Avery, Kirby Booher and Sean Sanderson
Second Flight
1st Place: Paul Haut, Mike Mizerak, Jeff Gamble and Jerry Geiger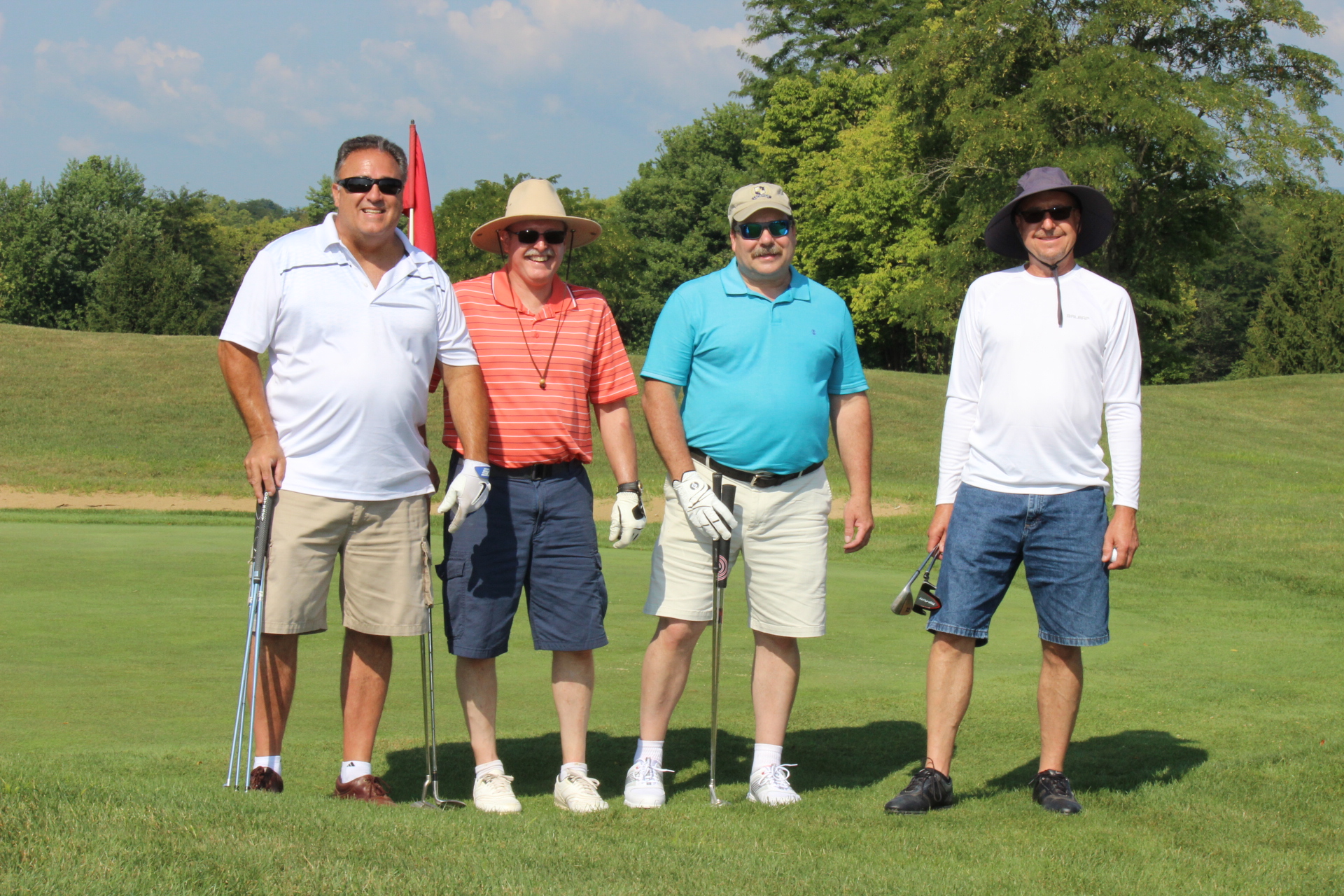 2nd Place: Brian Weidow, Marshall Witmer, Robert Bender and Michael Steadele
3rd Place: Dean Lipscomb, Mike McCandless, Dave Lau and Colt Seltzer
Closest to the pin #3 Brian Burton
Closest to the pin #7 Denny Wilson
Closest to the pin #13 Rodney Keller
Closest to the pin #16 Doug Eber
Longest Drive #18 White Tees Dean Lipscomb
Longest Drive #18 Senior Tees Doug Eber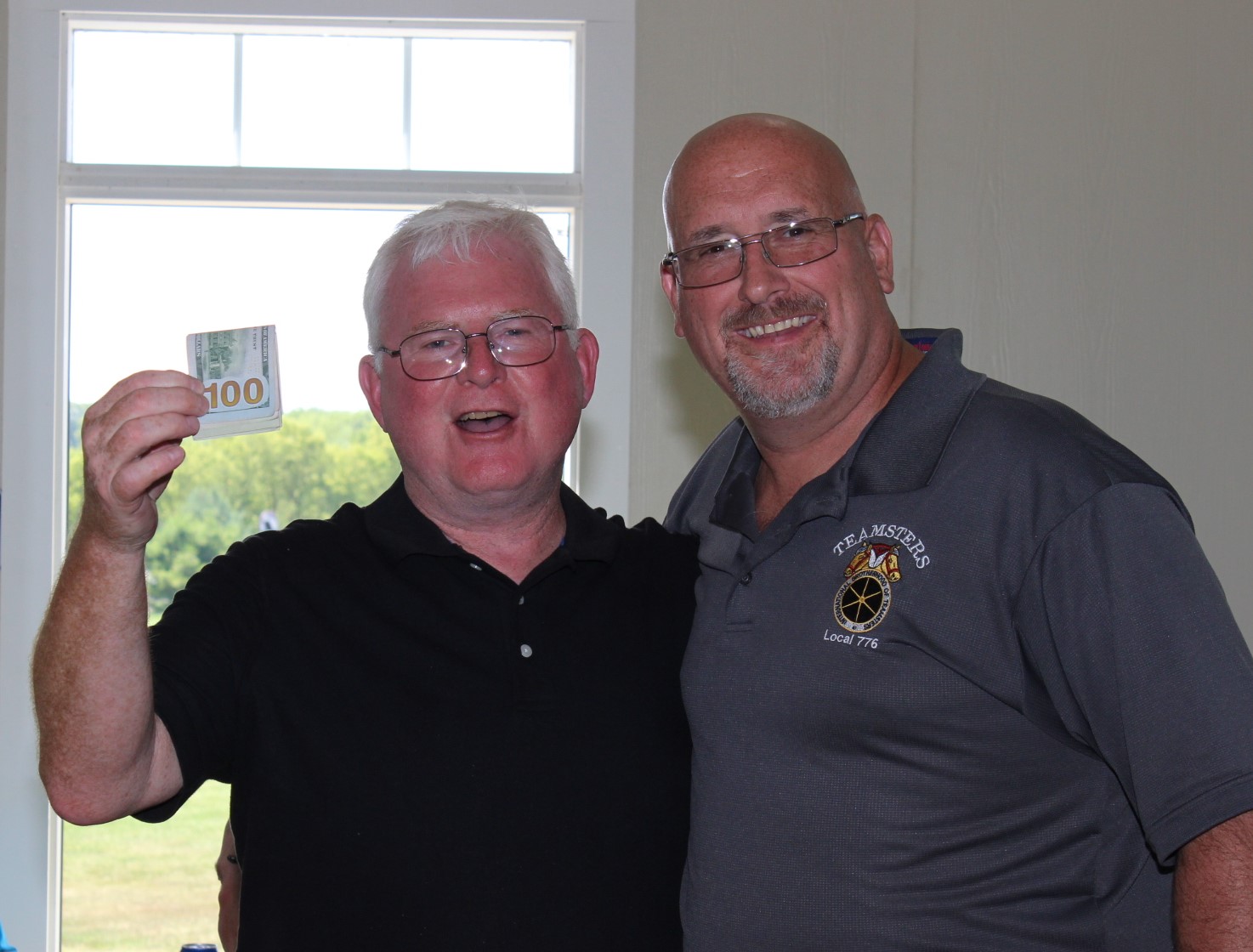 Ralph Santo (L) is a happy golfer after being awarded his share from the 50/50 drawing by Local 776 VP Dave Pogue.
Additional photos from the tournament, including the rest of the Local's Fearsome Foursomes, and one threesome, can be found in the Photo Gallery.
Local 776 would like to thank the members who came out in support of the Local's Tournament and the Scholarship fund. If you couln't make it this year we hope to see you next year!