Recently Local 776 recognized three members joining the ranks of the retired! Between the three of them is over 100 years of Teamster membership!
Penny Bupp recently retired from Rabbit Transit after 29 years as a Teamster Member. Penny worked for Rabbit for 38 years; she began her career at Rabbit as a Para Transit driver, worked in the office, and then spent the next 29 years as a fixed route driver. Penny and her husband Tony have six grandchildren between their son and stepdaughters so there are plenty of people looking for her time. Not one to sit around, while Tony was still working Penny has been to Florida with her grandkids, then with Tony to Mexico and the Dominican Republic. They have a large family trip planned for November to Jamaica or the Dominican Republic. When she is not traveling, Penny enjoys banking; snacks, cakes, and treats that she supplies the Rabbit Transit drivers with. When asked about her time as a Teamster Penny responded: "I enjoyed being a Teamster. The money I earned lets me enjoy my retirement. I wouldn't work Non-Union!" From everyone at Local 776 happy retirement Penny!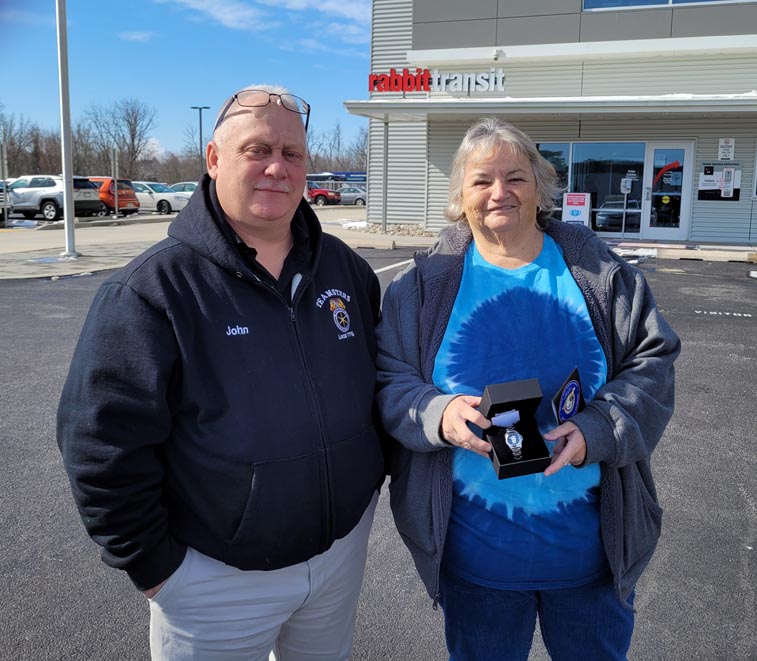 Local 776 Business Agent John Taylor presents Penny with her retirement watch!
Steve Cooper: After 33 years of route sales for Bimbo Bakeries, the parent of Stroehmann/Maiers Bakeries, Steve Cooper recently parked the delivery truck for the last time. What Steve had considered a temporary job until something better came along 33 years ago became his career with the Union wages and benefits he was earning. Steve and his wife Julie have four children and four grandchildren. Now that he is retired, he wants to become more involved with the grandchildren and to work out at the gym. Steve is a volleyball referee, overseeing high school club volleyball in PA and across the U.S. When we caught up with him for this interview, he was working the college club volleyball championship in Arizona! When asked about his time as a Teamster Steve replied: "You have to be flexible and handle the changes, the job changed a lot in 33 years, from using pencil and paper to record sales to having a handheld computer tracking your inventory and sales". From everyone at Local 776 congratulations on your retirement Steve, enjoy it!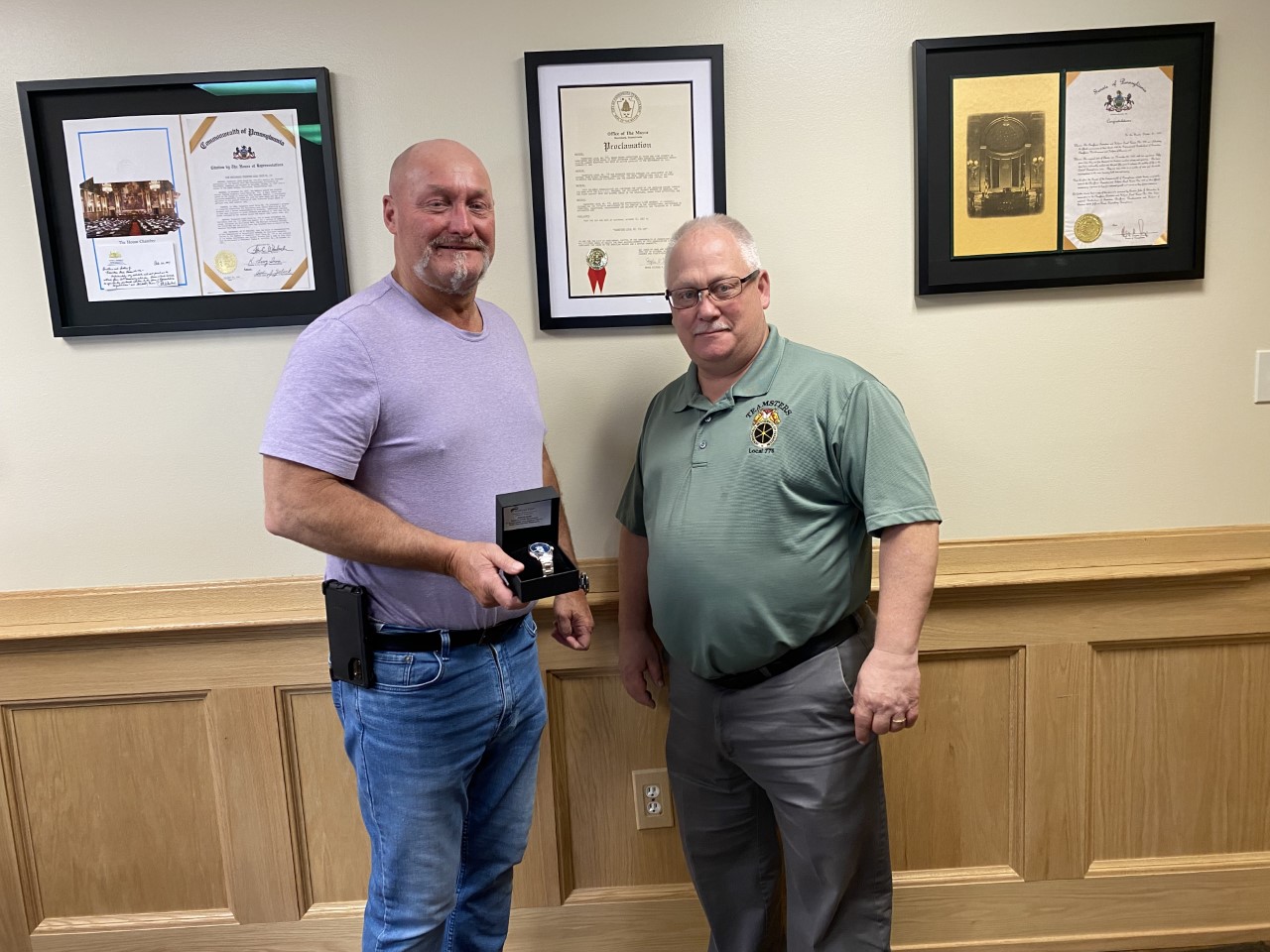 Steve Cooper receives his retirement watch and congratulations from Local 776 BA John Talyor.
Gene Reichard: Where were you in 1982? Can't remember? Local 776 Member Gene Reichard remembers; he started working at Walter Zeiglers Sons Concrete as a truck and maintenance mechanic in York. After forty years of keeping the Zeiglers fleet running Gene has inspected his last truck and joined the ranks of the retired! Gene learned the truck repair trade early; went to diesel technical school, and started at Zeiglers at age 25. He was responsible for 16 trucks, handling the routine preventive maintenance, and yearly state inspections, along with all the electrical work, steel welding, frame-up rebuilds, etc. Gene and his wife Elena have three daughters, six granddaughters, two great-grandsons, plus an adopted daughter from the Dominican Republic who has two children. With retirement comes additional time to spend with Elena and his hobby of restoring and showing antique farm tractors. Gene currently has five tractors of his own spanning the 1930s to the 1950s model years that he regularly shows. In addition, Gene serves as an Elder for Jehovah's Witnesses, visiting other congregations on assignment to serve the ministry. Embarking on the next chapter in his life Gene stated " I've been a member for forty years, I appreciate all the Teamsters have done over the years, and I have enjoyed the camaraderie of fellow Members!" From everyone at Local 776 congratulations on retirement Gene, may you enjoy many years as a Teamster Retiree!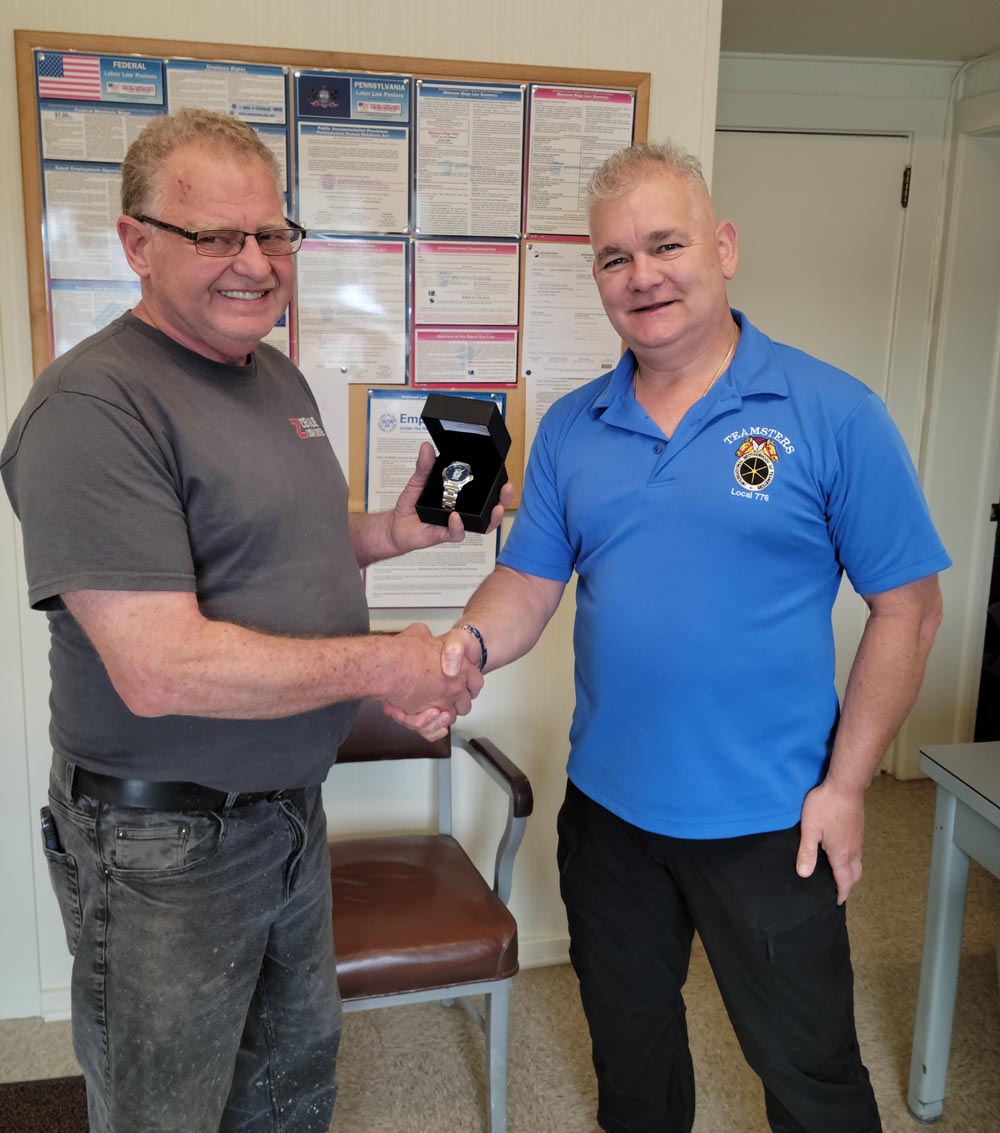 Gene Reichard receives congratulations and his watch from Local 776 BA Bill Olmeda.